The Polestar 2 premiered earlier this year, proving the Swedish upstart electric car manufacturer can produce a powerful sports liftback sedan that can go toe-to-toe with the big brands.
Now the company is selling a frugal single-motor version with improved range, different driving dynamics, and most importantly, a lower price tag. The company threw the new model's birthday party in the sunny high-desert haven of Santa Fe New Mexico earlier this month. I got to pilot the entry-level Polestar 2 along the twisty mountain roads near Los Alamos National Laboratory, the birthplace of the atomic bomb and other world-changing technologies. Does this new Polestar 2 model also irrevocably change the world's technological landscape? Keep reading to find out.
What's new?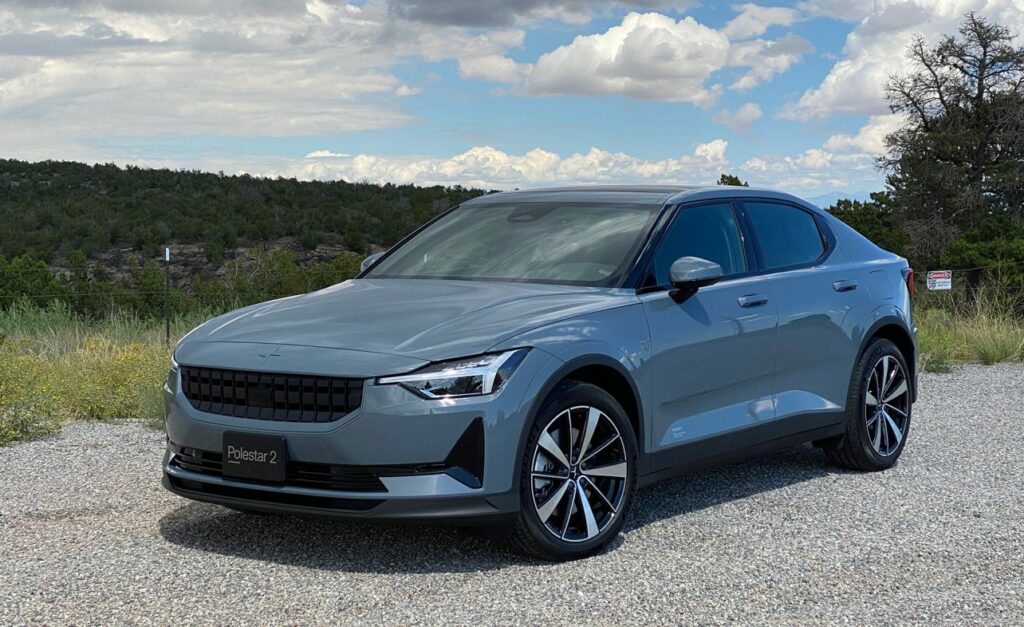 Polestar launched in 2017 with luxury. Its first car was the $155k-plus hyper hybrid, the Polestar 1. The low-slung full-carbon coupe was packed with all the tech; a turbocharged, supercharged, and intercooled two-liter four-cylinder plus two electric motors. It was a technological showpiece meant to make a big splash and set the tone for the fledgling company's high-tech, electrified future.
The Polestar 2 is their second model. It launched last year with two electric motors that put a combined 408 horsepower and 487 lb-ft of torque to the ground via all four wheels. This latest Polestar 2 has just one motor at the front wheels that makes 231 horsepower and 243 lb-ft of torque. Both cars use the same 400V, 78 kWh lithium-ion battery pack that can handle up to 155kW DC charging. The single motor car tips the scales at 1,994 kg, 119 kg lighter than the dual motor version. Less power and lighter weight give the single-motor car a slight range advantage over the dual-motor—266 miles (426 km) compared to 250 miles (400 km). The single-motor is also slower, reaching 60 mph in 7.4 seconds instead of 4.7. The single-motor car starts at $49,900 while the dual-motor starts at $56,900.
Other than that the two models are virtually identical. They share most interior and exterior trim level options and colors, driver aid options, dimensions, and storage capacity. The Performance Pack is the only thing you can't option on the single-motor, which includes stickier Continental SportContact 6 tires, Brembo four-piston brakes, Öhlins Dual Flow Valve (DFV) manually adjustable dampers, and snazzy Swedish-gold brake calipers, valve caps, and seatbelts.
Swedish Chic
The Polestar 2's interior is pure Swedish chic, all clean lines arranged in a stark yet pleasing manner that make you feel like you're on the set of a sci-fi movie. There are several interior trim options, including two animal-free fabric choices each with its own trim colors and textures. The slick-top base model features embossed textile upholstery and the striking 3D diamond-patterned plastic trim on the dash and doors. Heated front seats and 2-zone climate control are standard. Step up to the Plus Pack (a $5,500 option) and you'll get more posh WeaveTech upholstery and black ash wood trim, along with a panoramic roof, upgraded Harman Kardon 13-speaker audio system, heated rear seats and steering wheel, fully-electric front seats with cushion extensions, a wireless phone charger, a nifty rear cargo bag holder, a tinted rear window, and a heat pump to keep the batteries warm in colder climates.
The dash is dominated by a stand-alone 11.15-inch touch screen. It's responsive, easy to read, and easy to use. The 12.3-inch driver's display is also sharp and clear. The steering wheel has a simple arrangement of physical buttons (not haptic) to control volume and toggle through tracks and display modes. It's all very clean, simple, and calming—like being in a sparse modern home. Interior fit and finish are right up there with higher-end cars from manufacturers like VW or, well, Volvo. I have only one quibble: The infotainment screen nearly obscures the front center vents in the dash—you have to sort of awkwardly reach around the screen to adjust them. It's a weird oversight in an otherwise well-designed interior.
The interior can comfortably seat four adults. I had no problem fitting my 5'11" frame in the rear seat with the driver's seat set up for my height. Cargo capacity is also good, 14 cu-ft (405 liters) with the seats up and 38.6 cu-ft (1,095 liters) with the seats down. There's also 1.2 cu-ft (35 liters) of storage in the "frunk" and 1.4 cu-ft (41 liters) hidden away under the rear deck lid. The hidey-hole is big enough for a backpack or a sack of groceries and would be great for keeping smaller objects from flying around the cargo area during cornering.
Overall the Polestar 2's interior is impressive. It feels unique, special, and cutting edge without feeling dated.
Tech Time
All Polestar 2s come standard with Android Automotive OS, a first for any North American vehicle. The infotainment system is built around Google Assistant, Google Maps, and the Google Play store. It's just as easy to use as your typical Android smartphone, which is refreshing when compared to other manufacturer's proprietary and often confusing infotainment setups. The Polestar-specific car setting screens are simple and clean, using a Helvetica-like sans serif font and big contrasty buttons. Simplicity and clarity seem to be top priority for Polestar, which is refreshing.
The single-motor version comes with collision avoidance and mitigation, which means it'll automatically brake or turn to help you avoid an accident or a pedestrian. It also has run-off road mitigation, forward collision warning, oncoming lane mitigation, lane keep assist, cruise control, and driver alerts. The Pilot Pack ($4,500 option) gives you blind spot monitoring, cross-traffic alerts, rear collision warning, adaptive cruise control, a 360-degree camera, auto-dimming mirrors, pixel LED headlights, LED fog lights, and fancy front and rear light sequences. Polestar says that more driver aids could be coming via over-the-air (OTA) updates, but wouldn't give any specifics.
Driving Impressions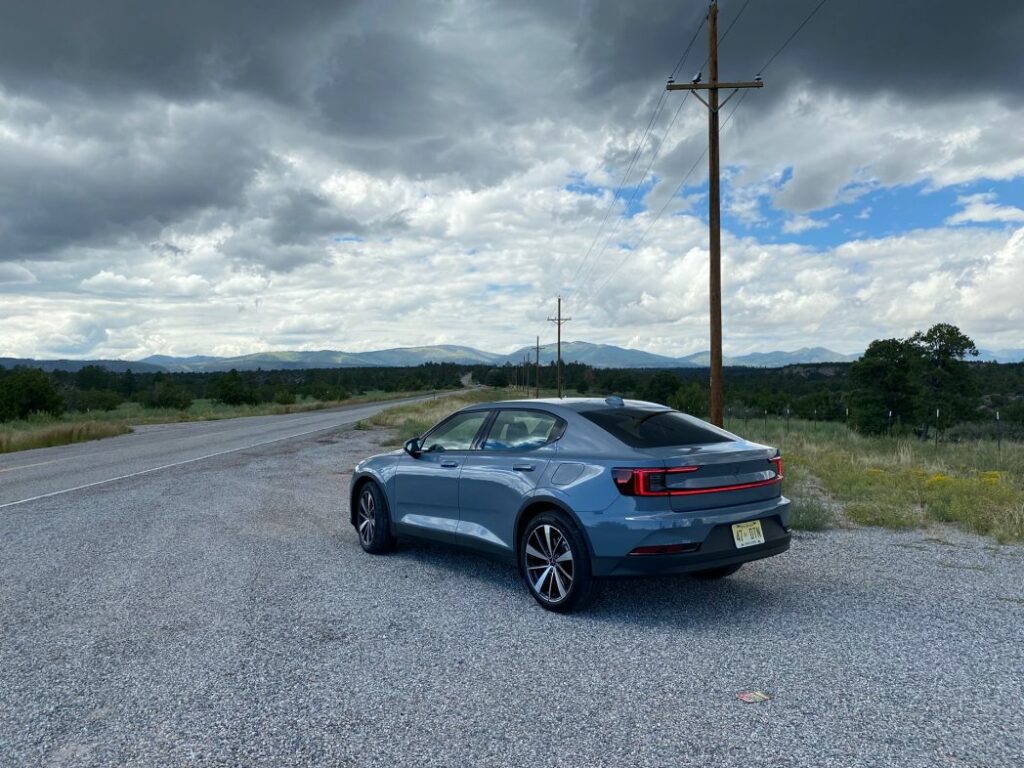 The single-motor Polestar 2 may be slower than its dual-motor sibling, but it's just as playful. The electric steering is quick and turn-in is sharp. The car's lighter weight also helps its handling, giving it a more hot-hatch feel than dual-motor. But it's still a heavy car (4,396 lb or 1,994 kg) and doesn't quite change direction as quickly as a pure hot hatch like VW's GTI. Still, body roll is controlled and the car corners flat, giving you just enough of a giddy feeling to make every drive enjoyable. The steering has three resistance settings, but none of them significantly affect steering feedback, which is a bit numb.
Mash the go pedal and you'll be met with a soft whoosh of power that builds with speed. Polestar re-geared the car to help make up for the missing rear motor, sacrificing top-end speed for down-low oomph, but the single-motor car doesn't snap your neck: 100 km/h arrives in a respectable 7.4 seconds. It's satisfyingly swift and its silence and effortless acceleration makes it feel quicker than it is. The brake pedal is firm and works well, but it feels dead. This isn't a big deal, though, because it's very easy to drive the Polestar 2 with one pedal on its standard regen settings. In fact the one-pedal driving works so well that I doubt many owners will ever have to replace pads or rotors.
Polestar has really dialed in the car's suspension, too. It handles bumps and rough roads without drama or too much jostling. Tire and road noise are also minimal, thanks to generous sound deadening.
But it's not all great: Rearward visibility is pretty poor. Despite the hatch configuration, you only get a tiny oblong porthole to peer out of. But thin C-pillars mean there aren't huge blindspots when changing lanes, so it's not really a big deal.
But is this an enthusiast's car? The single-motor car is front-wheel drive only, which will make some car nuts wrinkle their noses in disgust. On the road, however, most people won't even notice or care that power goes through the front wheels. The car is engaging and fun to drive, and it feels well balanced. Sure, you can't powerslide it or steer it with the throttle, but you can still hoon it down a twisty road and have a great time. Again, the single-motor Polestar 2 feels like a heavy hot hatch. It's a driver's car with a dynamic and engaging personality.
Where can I get it and where can it be serviced?
Polestar is selling their cars through "space partners" across North America. There are currently 23 Polestar spaces across North America and there will be a total of 35 by the end of 2022. Three spaces are in Canada: Montreal, Toronto, and Vancouver. The company will offer at-home pick-up and delivery of vehicles for service, but they say generally cars can go up to two years without maintenance. Every Polestar comes with three years of free maintenance and four years of roadside assistance. OTA software updates are included and OTA diagnostics are also available, which means you could have your Polestar diagnosed without even taking it in for service.
Final Thoughts
The Polestar 2 feels like just a bit of the future has bled into the past. It is very much a traditional-feeling car, not some futuristic shuttle pod vehicle for moon men. But you get glimpses of a highly ordered and refined future when you peer at the angled dash or feel the woosh of electric power. Make a turn at an intersection and you'll again be reminded of that techno future by the gentle truncated "tic-tic" of the turn signal indicator, a sound like a bug tapping a tiny microphone for attention. The Polestar 2 feels special, but not too futuristic. It's an easy transition into our electric future. The styling is striking, it's fun to drive, and it's loaded with easy-to-use tech. It really is a great debut for the new car maker.
So does it change the global technological landscape? I think it does. Polestar managed to design this car and bring it to market in just a few years with the backing of China's leading auto manufacturer, Geely. Polestar seems to be breaking records for how quickly a new car brand can spin up. If it can continue at this pace, it can truly disrupt the electric auto industry.